Hi! PARIS Meet Up! on Computer Vision – Look back to the first edition
First Hi! PARIS Meet Up! Discusses New Frontiers In Computer Vision
Four researchers in artificial intelligence (AI) and data science zoomed in on recent breakthroughs in Computer Vision at the inaugural Meet Up! organized by Hi! PARIS for over 60 business leaders, professionals, experts, academics and students from diverse sectors, companies and academic institutions.
One of the best-known successes of AI, existing approaches in computer vision focus on very well-structured and data-rich settings. This meet up was an extraordinary opportunity for key stakeholders to discover more complex approaches used within the domain during a panel discussion with four Hi! PARIS researchers: Prof. Mitali Banerjee from HEC Paris, Prof. Vicky Kalogeiton and Prof. Maks Ovsjanikov of Ecole Polytechnique, and Prof. Enzo Tartaglione Hi! PARIS chair holder at Télécom Paris. The hour-long discussion expanded on areas such as actor interactions within videos, assessing perceptual and semantic concepts such as creativity within artworks, training with limited data, as well as the use of computer vision on novel areas like 3D data.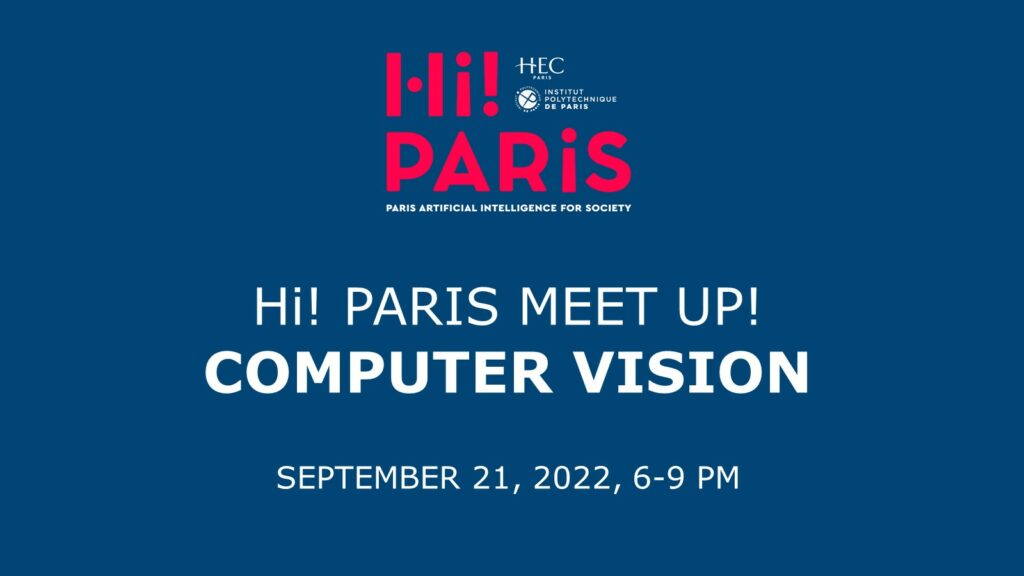 The Grand Goal of Computer Vision
Computer Vision is a scientific discipline that aims to develop tools, which enable computers to automatically observe and understand the visual content of an image or a video in the same manner that human beings do. While this definition may seem relatively simple, Enzo Tartaglione emphasizes that, for Computer Vision to be successful, learning how to extract and manipulate high-level concepts from images or videos are key.
"Computer Vision became extremely affected by the uprising of deep neural networks because of their superior capability of learning complex relationships still following relatively simple rules," explains Tartaglione, whose expertise lies in frugal AI and in particular, lightweight deep neural networks and biais mitigation of deep learning models.
For Maks Ovsjanikov, professor in Computer Science from Ecole Polytechnique and Eurographics Young Researcher Award Winner, Computer Vision also offers an understanding of the structure of three-dimensional shapes and methods for handling geometric data effectively.
"Together with colleagues, I have developed widely-used tools for non-rigid shape analysis, including the Heat Kernel Signature, algorithms for isometric shape matching, Functional Maps, and efficient methods for deep learning on surfaces and shape correspondence," says Ovsjanikov, whose research is primarily related to geometric (3D) shape analysis with emphasis on Deep Learning for shape comparison and processing.
Concrete Applications Of Computer Vision
While the goal of Computer Vision is to make computers "see" like humans do, research in this field spans beyond just tools to imitate and augment human vision. AI researcher and professor at Ecole Polytechnique Vicky Kalogeiton is currently working on research that emphasizes on the recognition of moving humans in videos, on what they do over time, with whom and why. She explains the potential applications of her research for companies: "There are several exciting prospects, such as identifying physical phenomena, disasters or climate changes for the environment sector, the automatic transcription of movies to generate respective recommendations for the entertainment sector, and even to help assistive agents to learn from humans and act accordingly."
"Energy and memory efficiency for deep learning will be central in the next years," says Tartaglione. He adds, "To address the energy crisis and target carbon footprint reduction, most of the data computation will be pushed toward edge devices, which poses questions as well on energy consumption, especially on battery-powered devices. Furthermore, data protection and avoiding biases in vision applications is another relevant topic for critical applications like anomaly detection."
Computer Vision tools are not only limited to applications within its field. HEC Paris professor of Strategy Mitali Banerjee applies these tools to her research in management. For instance, she uses convolutional neural nets (CNN) to create novel measures of distinctiveness of complex products such as modern art.
"We show that our measure of distinctiveness captures human perception of differences among the art works," elaborates Banerjee. "The measure goes beyond existing measures of differentiation which have either focused on one or more handful of pre-selected dimensions. CNN-based representations of the images avoid the need for relying on such pre-selected features or a theory of which dimensions might be relevant. Instead, the CNN-based measure allows us to learn good representations of complex input in the form of images, text and sound, permitting us to identify precise reference points from which innovators can differentiate their work to maximize their chances of success."
Banerjee's research allows a granular capture of the evolution of creative output at scale, and thus enables the progression of existing theories of valuation of differentiation. The measure can be applied to capture the distinctiveness of a range of products, from fashion to industrial design, and beyond.
Hi! PARIS Meet Up! a new format
Hi! PARIS Meet Up! sessions offer a PhD poster session followed by a round table with researchers. They aim at creating a fruitful dialogue with practitioners who can debate with PhD students and researchers, ask questions and gain insightful knowledge and ideas to nurture their company's projects and thinking.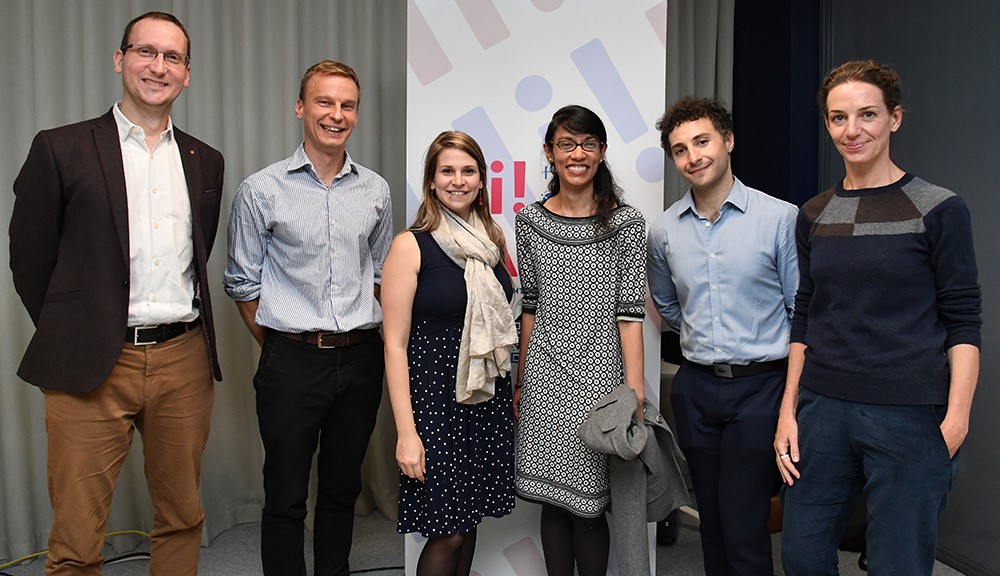 From left to right: Roland Rathelot (co-organizer and Hi! PARIS Chair holder at ENSAE), Maks Ovsjanikov (Ecole Polytechnique), Vicky Kalogeiton (Ecole Polytechnique), Mitali Banerjee (HEC Paris), Enzo Tartaglione (Hi! PARIS chair holder at Télécom Paris) and Anne-Laure Sellier (co-organizer and HEC Paris)