// Ambition
The global ambition of this new interdisciplinary center is to ensure AI and data empower business and society. It will provide a unique framework for research, education, innovation, and technology transfer to businesses. It will take advantage of cross-fertilization between fundamental sciences, technology, management and social sciences which are fields of excellence for both Institut Polytechnique de Paris and HEC Paris. It will also help to stimulate productive interactions between researchers, students and organizations, thus enabling the emergence of high-potential projects, up to startups. The Center's ambition as regards AI and Data Analytics is to compete with the very best international institutions. HI! PARIS will soon be a destination of choice for the most talented students and researchers from all over the world, all of whom address questions related to data science, artificial intelligence, their role in science, technology and business, and impact on society.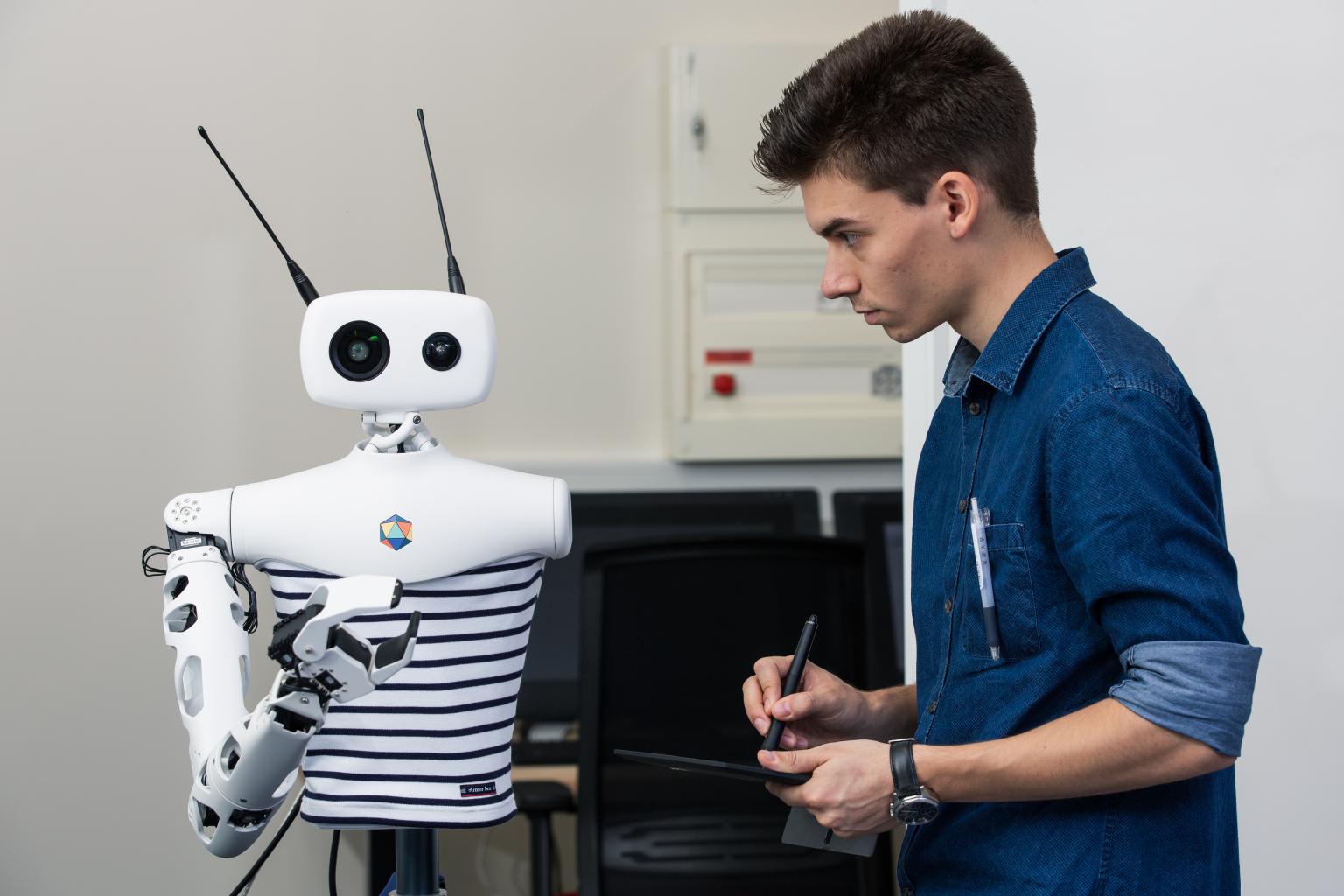 // HEC Paris and Institut Polytechnique de Paris Alliance
IP Paris and HEC Paris have created HI! PARIS to develop education, research and innovation in the fields of artificial intelligence and data analytics. Based on their joint expertise and a multidisciplinary approach, the Center addresses key challenges related to technological transformation and its impact on business and society. Theoretical and methodological research in AI and Data analytics is conducted at the highest level. The Center tackles managerial, legal, economic, ethical and societal issues emerging due to exponentially larger data sets harnessed through artificial intelligence.
The Institut Polytechnique de Paris (IP Paris) is a public higher education and research institution that brings together five prestigious French engineering schools: École Polytechnique, ENSTA Paris, ENSAE Paris, Télécom Paris and Télécom SudParis. Under the auspices of the Institute, they share their combined bicentennial expertise to fulfil two major ambitions: to develop educational programs of excellence and cutting-edge research in science and technology. Thanks to the academic foundations of its five founding schools and its alliance with HEC Paris, IP Paris positions itself as a leading academic and research institution, both in France and internationally.
Specializing in education and research in management sciences, HEC Paris offers a complete and unique range of academic programs for the leaders of tomorrow: the Grande Ecole program, Specialized Masters and MSc, Summer School programs, the MBA, Executive MBA and TRIUM Global Executive MBA programs, the Ph.D. program and a wide range of programs for executives and managers. Founded in 1881 by the Paris Chamber of Commerce and Industry, HEC Paris has a full-time faculty of 140 professors, 4,500 students and 8,000 managers in executive education programs every year.
Nicolas VIEILLE
Scientific co-director
HEC Paris Professor
Lanchester Prize 2003 in Operations Research, Editor of Games and Economic Behavior, associate editor of Econometrica.
Eric MOULINES
Scientific co-director
IP Paris Professor
CNRS Silver medal 2010, ORANGE Grand Prix of Science Academy 2011, Elected member of the French Academy of Sciences 2017, Elected member of the Institute of Mathematical Statistics (IMS) 2016.
Gaël RICHARD
Executive director
IP Paris Professor
Head of the Image, Data, Signal department of Télécom Paris, IEEE Fellow
Scientific Advisory Committee
Central to the HI! PARIS governance, the International Scientific Advisory Board gathers 10 top scientists with recognized expertise in the research fields covered by the center. Their core mission will be to provide independent, credible, and impartial recommendations on academic matters to the governance committee and the executive board of the center.
Francis Bach, Inria
Kathleen Carley, Carnegie Mellon University
Anindya Ghose, New York University
Avi Goldfarb, University of Toronto
Michael Jordan, University of California, Berkeley
Roni Michaely, University of Geneva
Masashi Sugiyama, University of Tokyo
Mariarosaria Taddeo, University of Oxford
Mihaela van der Schaar, Cambridge University
Lenka Zdeborova, Ecole Polytechnique Fédérale de Lausanne
Academic Operating Committee
It is composed of academic representatives from the various schools involved in the center:
Stephan Clémençon, Télécom Paris
Philippe Choné, ENSAE Paris
Arnak Dalayan, ENSAE Paris
David Filliat, ENSTA Paris
Alexandre Gramfort, Inria
Sylvain Le Corff, Télécom SudParis
Sylvie Putot, Ecole polytechnique
Anne-Laure Sellier, HEC Paris
Shirish C. Srivastava, HEC Paris



Its missions are to:
1. Drive the day-to-day scientific and pedagogical life of the Center
2. Manage calls for tenders (dissemination, selection and follow-up) within partner institutions
3. Propose actions originating from the academic community and/or companies
4. Disseminate within each school the topics handled by the Academic Operating Committee and the progresses made in order to mobilize the community, foster exchanges and boost initiatives.