Hi! PARIS Renews Strategic Partnership with Capgemini
We are delighted to announce the renewal of our sponsorship agreement with Capgemini. 
This renewed partnership is aimed at continuing our joint commitment to research, innovation, and education, thereby creating new opportunities for our community.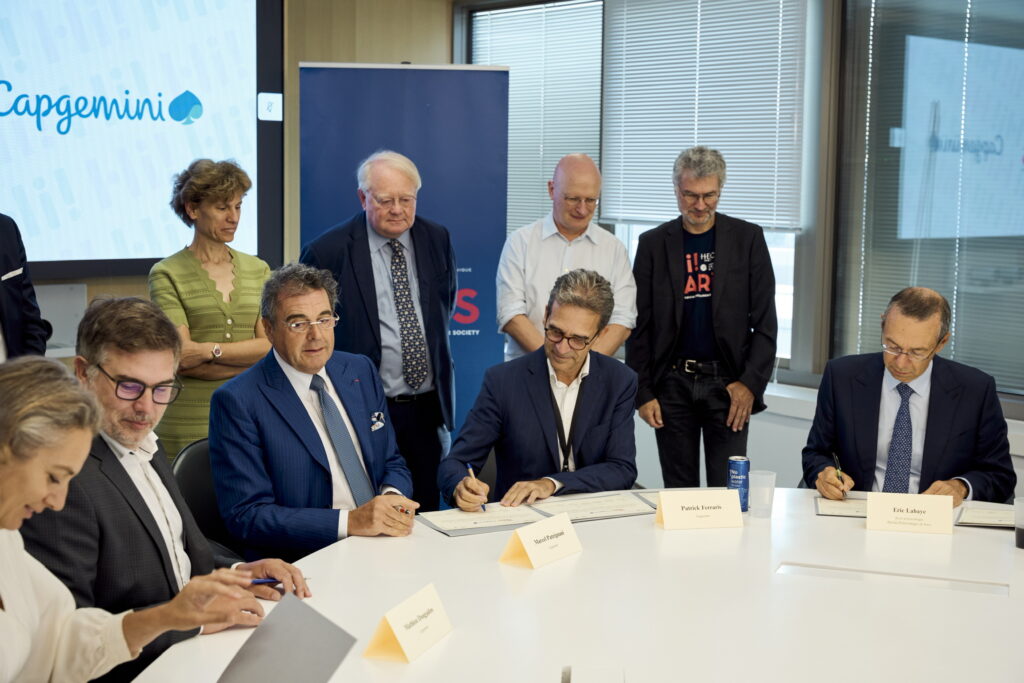 In an era where data is the new currency and artificial intelligence stands as a transformative force, our partnership with Capgemini continues to thrive. This renewed commitment is a testament to our shared vision of shaping an AI landscape that is not just innovative but also responsible, reliable, and sustainable.
Over the past three years, Capgemini has played a key role as one of the seven corporate donors of Hi! PARIS. Thanks to their continuous support, we have achieved important milestones in training, research and innovation.
Hi! PARIS remains dedicated to harnessing the full potential of AI and data science for the benefit of businesses and society. Among the highlights of the renewed partnership is a joint commitment to solidify our position as a world leader in the fields of Artificial Intelligence and Data Science.
We extend our heartfelt gratitude to Capgemini for their continued support and extend our appreciation to all our partners, foundations, and sponsors. Their collective dedication has allowed us to create a unique space for disruption, training, innovation, and technology transfer.
From left to right: Eloïc Peyrache (HEC Paris), Rodolphe Sonnois (Capgemini), Delphine Colson (Fondation HEC), Raphaëlle Gautier (Hi! PARIS), Mathieu Dougados (Capgemini), Vincent Fraitot (HEC Paris – Hi! PARIS), Marcel Patrignani (Capgemini), Sylvaine Neveu (Institut Polytechnique de Paris), Patrick Ferraris (Capgemini), André-Benoit de Jaegere (Capgemini), Éric Labaye (École polytechnique – Institut Polytechnique de Paris), Nicolas Vieille (HEC Paris – Hi! PARIS), Gaël Richard (Télécom Paris – Hi! PARIS), Jean-Paul Cottet (Fondation de l'école Polytechnique).
Aiman Ezzat, CEO of Capgemini Group declared: "The impact of artificial intelligence and data on businesses, and more broadly on our society, is undeniable. Hi! PARIS demonstrates that an ecosystem initiative is essential to anticipate the transformations we are collectively facing. Capgemini became a partner of Hi! PARIS 3 years ago. I'm proud of the work accomplished by our teams alongside HEC, the IP Paris schools and all the sponsors."
Eloïc Peyrache, Dean and General Director of HEC Paris added: "Beyond AI and Data, what is truly fascinating about the center is the question of talent and the level of multidisciplinarity within an institution. There are ample opportunities to collaborate with Capgemini, and all of this is in service to society, business, and technology in a sustainable and positive manner. This aligns seamlessly with our strategic positioning."
Eric Labaye, President of École polytechnique & President of Institut Polytechnique de Paris completed: "Capgemini played an instrumental role in the establishment of Hi! PARIS, and we are delighted to witness the continuation of this commitment. Without our corporate donors, we wouldn't have come this far. It's a remarkable journey of building from the ground up."
About Capgemini
Capgemini partners with companies to transform and manage their business by unlocking the value of technology.
As a leading strategic partner to companies around the world, we have leveraged technology to enable business transformation for more than 50 years. We address the entire breadth of business needs, from strategy and design to managing operations. To do this, we draw on deep industry expertise and a command of the fast-evolving fields of cloud, data artificial intelligence, connectivity, software, digital engineering, and platforms.